Rotavirus infection in Neonatal Intermediate Care Unit
Hilda G. Hernández-Orozco

Guadalupe L. Aparicio-Santiago

Esperanza Lucas-Reséndiz

José Luis Castañeda-Narváez

Carlos López-Candiani

Virginia Díaz-Jiménez

Aurora Rosas-Ruiz

Ma. del Carmen Sandoval-Medina

Patricia Arzate-Barbosa

Wendy Domínguez-Viveros

Patrik Eliana Sarmiento-Wilches
Resumen
Rotavirus acute gastroenteritis, continues to be one of the most common cause of morbidity in children younger than 2 years of age. However, it is not often to report outbreaks in neonatal intensive care units. The aim of this paper was to describe the epidemiological investigation of a Rotavirus outbreak, the viral transmission between infants and the control measures taken.
Materials and Methods: An outbrake study was performed in a neonatal intermediate care unit due to the presence of Rotavirus gastroenteritis cases.
Results: We identified 3 rotavirus gastroenteritis cases confirmed by direct antigen detection, the source could not be identified.
Discussion: We considered a transmission mechanism of propagated source because infected people excreted large number of viral particles and cause widespread environmental contamination. Conclusion: Quickly case identification and implemented implemen- tation of control measures prevent new cases and limits the spread of the outbreak.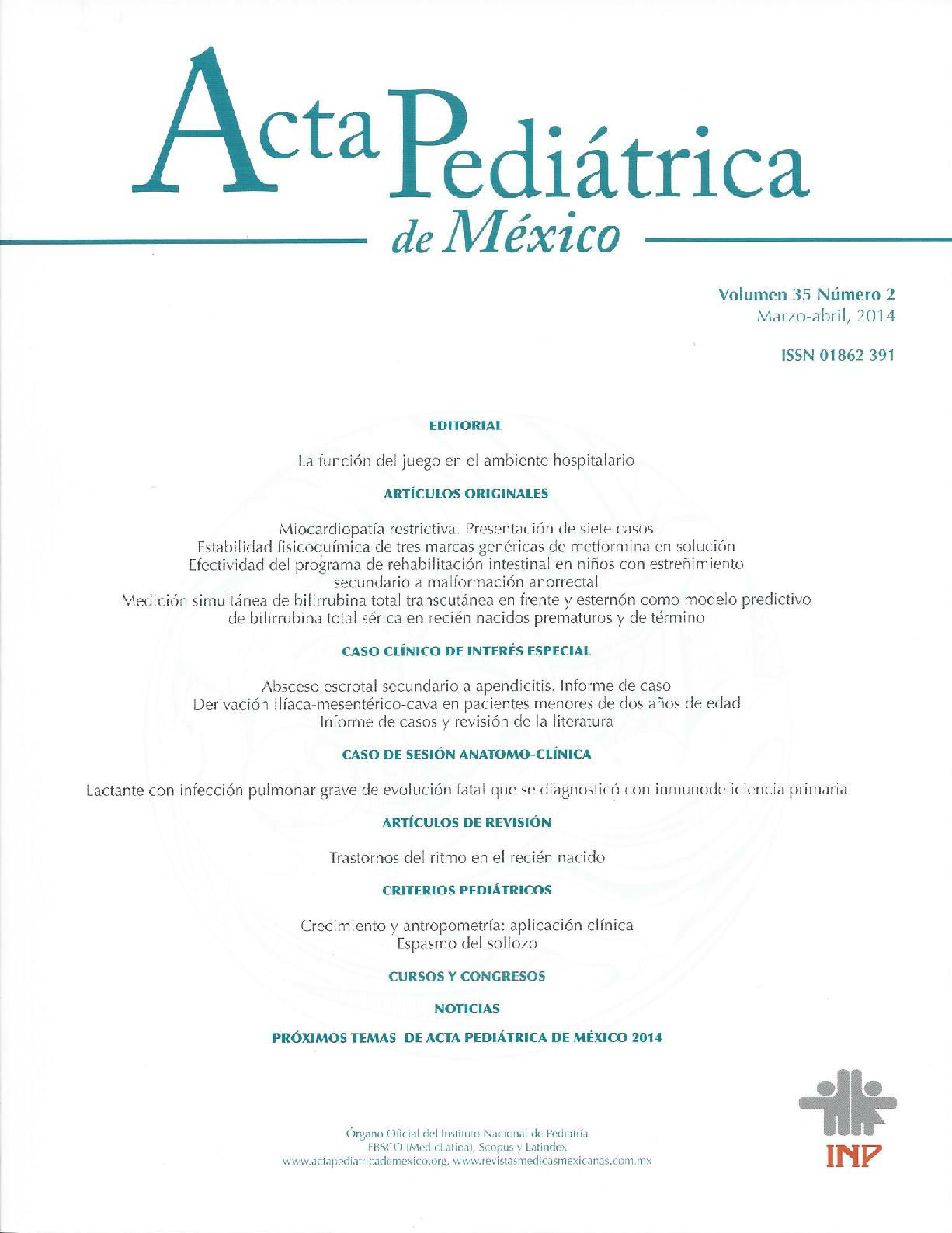 Cómo citar
Hernández-Orozco, H. G., Aparicio-Santiago, G. L., Lucas-Reséndiz, E., Castañeda-Narváez, J. L., López-Candiani, C., Díaz-Jiménez, V., Rosas-Ruiz, A., Sandoval-Medina, M. del C., Arzate-Barbosa, P., Domínguez-Viveros, W., & Sarmiento-Wilches, P. E. (2014). Rotavirus infection in Neonatal Intermediate Care Unit. Acta Pediátrica De México, 35(5), 365-372. https://doi.org/10.18233/APM35No5pp365-372
Sección
Artículo original
Derechos de autor 2015 Acta Pediátrica de México
Esta obra está bajo licencia internacional
Creative Commons Reconocimiento 4.0
.