Graft versus host disease in a patient with chronic granulocytic leukemia who received an hematopoietic progenitor cell transplant
Marta Zapata-Tarrés

Instituto Nacional de Pediatría

Eduardo López-Corella

Instituto Nacional de Pediatría

Martín Pérez-García

Instituto Nacional de Pediatría

Roberto Rivera-Luna

Instituto Nacional de Pediatria
Resumen
Male patient age 6 years 9 months, native of the State of Mexico,
without relevant antecedents. Parents age 32 years, with highschool
level education, merchants; subject has a brother age 10
years and a sister age 4 years. His government vaccination plan
is complete. Two months ago he presented onset of fever, epistaxis,
and splenomegaly. At Hospital Materno Infantil de Toluca
the blood biometry reported: hemoglobin 8.8 g/dL, hematocrit
24%, leukocytes 230,500/mm3, neutrophils 21%, bands 34%,
lymphocytes 9%, monocytes 7%, blasts 14%, basophils 11%,
eosinophils 4%. An analysis found: serum creatinine and liver
function tests normal.
Citas
Castro-Malespina H, Schaison G, Briere J, Passe S, Pasquier
A, et al. Philadelphia chromosome-positive chronic myeloid
leukemia in children: survival and prognostic features.
Cancer 1983;52:721.
Gartner JG. Thymic involution with loss of Hassall's
corpuscles mimicking thymic dysplasia in a child with
transfusion-associated graft-versus-host disease. Pediatr
Pathol 1991;11:449-456.
Hughes TP, Hochhaus A, Bradford S, Muller MC, Kaeda JS,
et al. Long-term prognostic significance of early molecular
response to imatinib in neuly diagnosed chronic myeloid
leukemia. Blood 2010;116:3758-3765.
Lichtman MA. Is There an entity of chemically induced
BCR-ABL–positive chronic myelogenous leukemia? The
Oncologist 2008;13:645-654.
Ortiz-Hidalgo C. Notas sobre la historia de la leukemia.
Patologia 2013;51:58-89.
Rowley JD. A new consistent chromosomal abnormality
in chronic muelogenous leukaemia identified by
quinacrine fluoresence and Giensa staining. Nature
;1:290-293.
Vigneri P, Wang JY. Induction of apoptosis in chronic myeloid
leukemia cells through nuclear entrapment of BCR-ABL
tyrosin kinase. Nat Med 2001;7:228-234.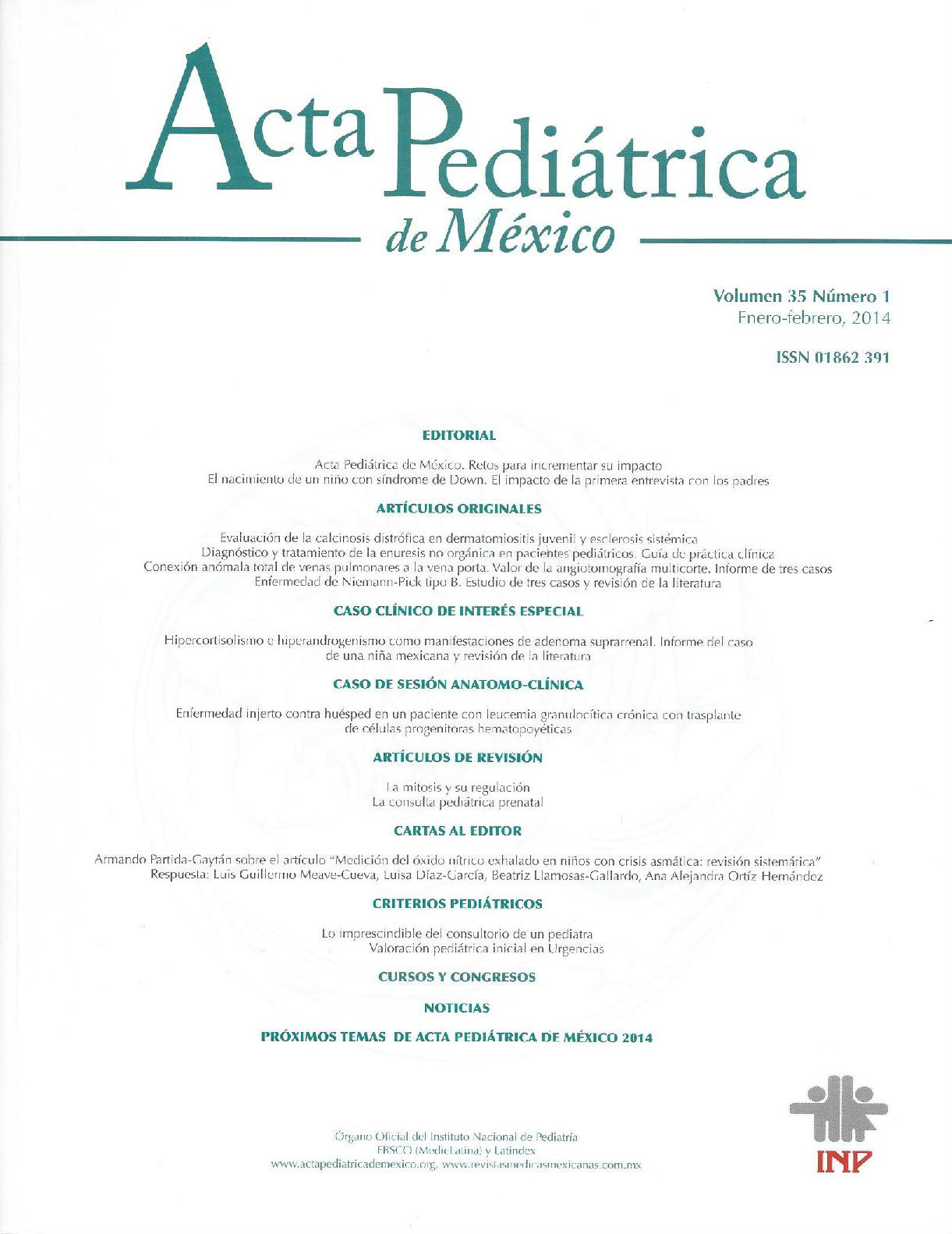 Cómo citar
Zapata-Tarrés, M., López-Corella, E., Pérez-García, M., & Rivera-Luna, R. (2014). Graft versus host disease in a patient with chronic granulocytic leukemia who received an hematopoietic progenitor cell transplant. Acta Pediátrica De México, 35(1), 45-54. https://doi.org/10.18233/APM35No1pp39-47
Sección
Caso de sesión anatomo-clínica
Derechos de autor 2015 Acta Pediátrica de México
Esta obra está bajo licencia internacional
Creative Commons Reconocimiento 4.0
.