The birth of a child with Down's syndrome. The impact of the first parent interview
Karla Adney Flores-Arizmendi

Instituto Nacional de Pediatría

Armando Garduño-Espinosa

Instituto Nacional de Pediatría

Rosalía Garza-Elizondo

Instituto Nacional de Pediatría
Resumen
The birth of a child with congenital malformations or genetic
syndromes is a relatively common occurrence: 3 to 4% of live
births have some major malformation, important enough to endanger
their life or development; this situation is accompanied
by high family, social, and medical impact which may have
tragic consequences.
Citas
Malean S. Anomalías congénitas. En: Avery GB. Neonatología, Fisiopatología y Manejo del Recién Nacido. 5th ed. Buenos Aires: Panamericana, 2001;841-860.
Garduno EA. El pediatra y los derechos de los niños con malformaciones congénitas. In Contacto 1995;XVII:1-5.
Los hijos discapacitados y la Familia. Serie Escuela para Padres. Mexico: Trillas, 1998;15-27.
Rossel K. Apego y vinculación en el síndrome de Down, una emergencia. Rev Pediatr Electron 2004; available at: http://www.revistapediatria. cl/vol1num1/pdf/apego.pdf.
Skotko B, Canal R. Apoyo posnatal para madres de niños con síndrome de Down. Rev Syndr Down 2004;21:54-71.
Bastidas M, Alcaraz GM. Comunicación de la noticia del nacimiento de un niño o niña con Síndrome de Down: el efecto de una predicción desalentadora. Rev Fac Nac Salud Pública 2011;29:18-24.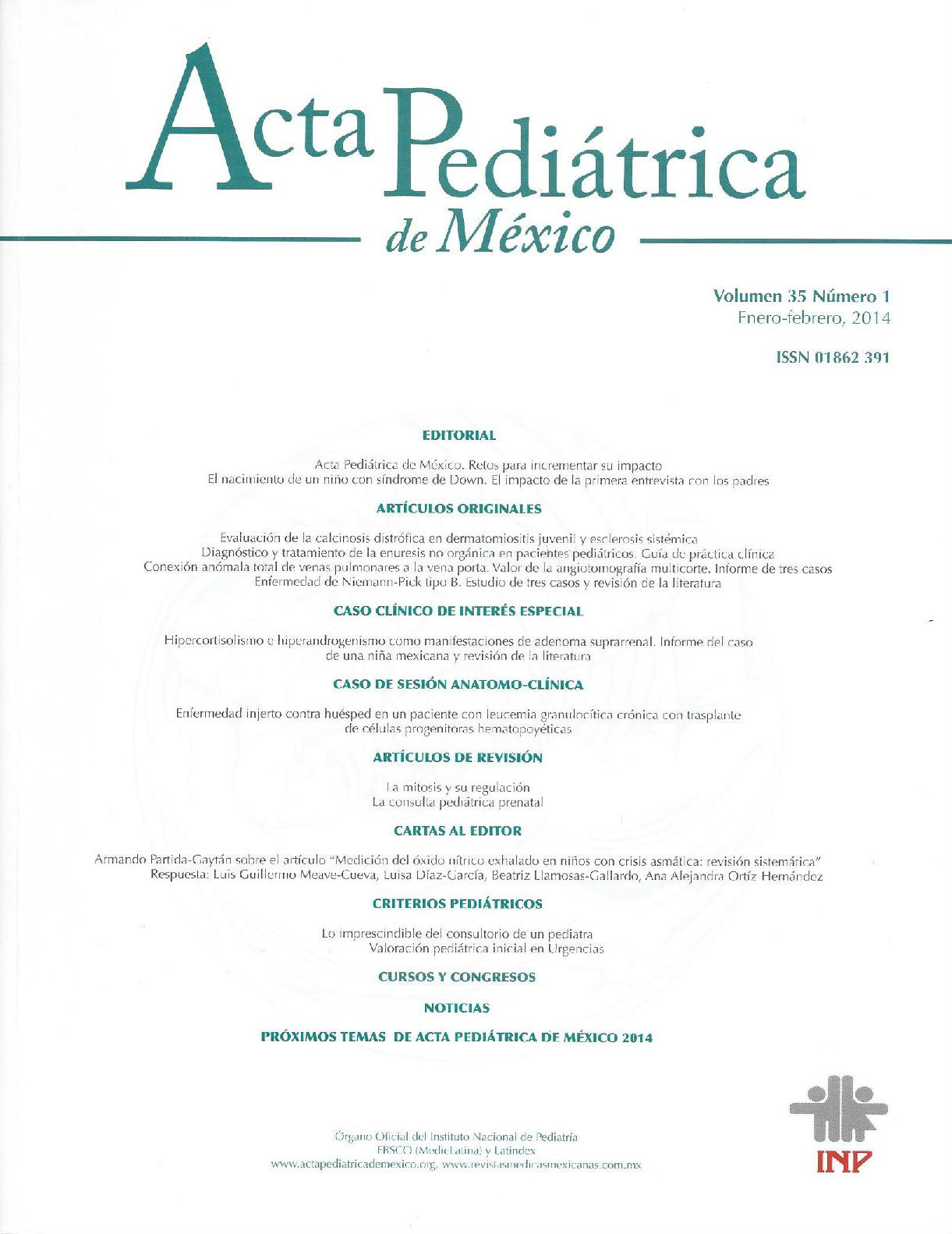 Cómo citar
Flores-Arizmendi, K., Garduño-Espinosa, A., & Garza-Elizondo, R. (2014). The birth of a child with Down's syndrome. The impact of the first parent interview. Acta Pediátrica De México, 35(1), 3-6. https://doi.org/10.18233/APM35No1pp3-6
Derechos de autor 2015 Acta Pediátrica de México
Esta obra está bajo licencia internacional
Creative Commons Reconocimiento 4.0
.